Taks Handling Systems takes over Buitendijk Slaman
Another takeover by Taks Handling Systems located in Etten-Leur, The Netherlands. This time all shares were taken over from Buitendijk Slaman in Bleiswijk. This is a second important step in the company's growth strategy. Taks Handling Systems develops, builds and installs complete harvest processing solutions in packaging halls for greenhouse vegetables and fruit worldwide. Buitendijk Slaman is known as a major producer of greenhouse horticulture logistics. The company has a complete product range for the care and harvesting of greenhouse vegetables. In addition, Buitendijk Slaman has a strong position in the bell pepper market with complete harvest processing solutions. The cooperation allows the companies to further strengthen their position in greenhouse horticulture.
Taks Handling Systems is a fast growing company with logistic solutions for the greenhouse horticulture market. With the recent takeover of Berkvens Greenhouse Mobility and now of Buitendijk Slaman, the company has taken the first steps in its chosen growth strategy. Arie Meeuwissen will also become Managing Director of Buitendijk Slaman. Edwin Sol remains fully involved with the company as Manager Sales and R&D.
Realization of international growth
"We aim for continuous growth, both organically and through strategic acquisitions," said Arie Meeuwissen in the press release of November 24th, 2020 about the Berkvens takeover. And he doesn't waste any time. This acquisition enables further international growth and strengthening of the total group.
Buitendijk Slaman offers a complete range for everything that is needed in the greenhouse. They develop, produce and sell innovative harvesting, crop care and transport systems for tomato and pepper growers with high-tech greenhouses. The team consists of 25 enthusiastic employees. The product range includes pipe rail trolleys, spray robots and buffer systems that are supplied all over the world. Buitendijk Slaman has a particularly strong position in the bell pepper market and wants to further expand this position.
This strong position in the bell pepper market makes the takeover even more interesting. This will further expand the Taks Handling Systems portfolio. Arie: "We are strong in the field of (vine) tomatoes, cucumbers and soft fruit. We have an innovative buffer solution for bell peppers. But bell peppers require completely integrated automation solutions. And Buitendijk Slaman is the expert in that!". The aim is to be able to offer a complete range of machines for the design of packaging halls and internal transport.
Edwin Sol: "Years ago we saw that our product range and our quality match perfectly, but it was still too early for both companies to talk further. We kept in touch. This year it is time to take steps together. Because the market is internationalizing and projects are getting bigger. Collaboration is a logical step to be able to follow this growth in the market. I look forward to continuing to grow the companies together with Arie. After the takeover, I will focus on sales and R&D to provide our customers and Taks customers with complete harvesting systems, both nationally and internationally." Buitendijk Slaman will continue to operate in the market as its own brand.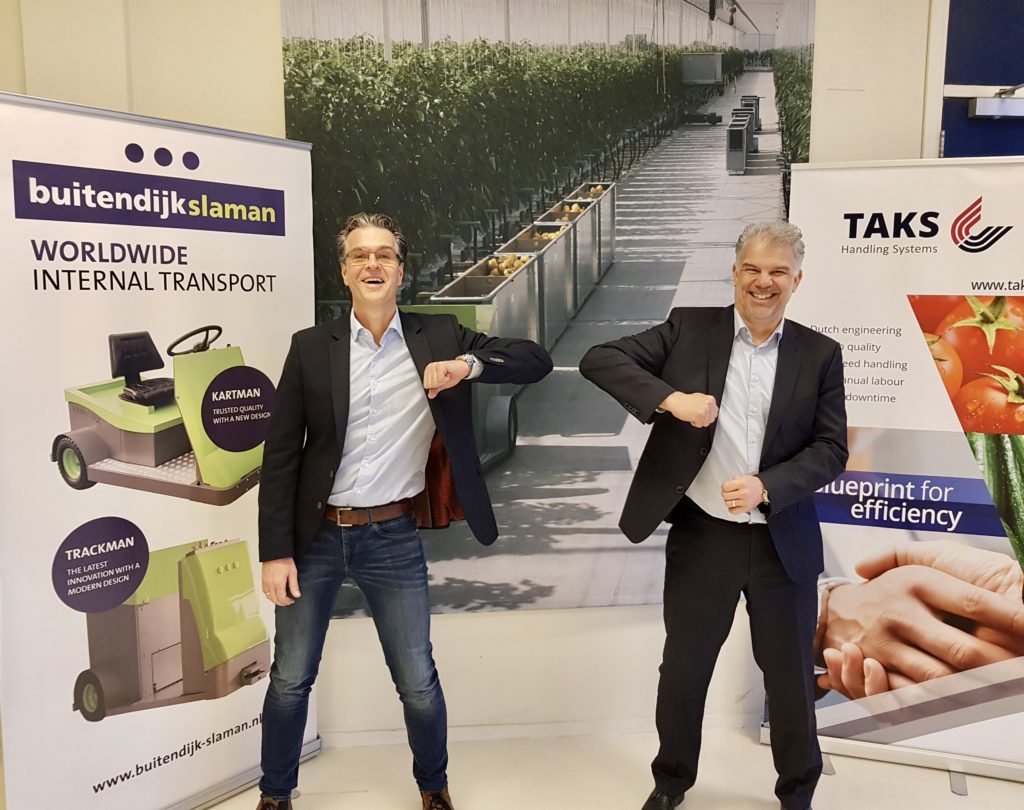 In the coming period, we will take the time to get to know each other better, improve production and efficiency and coordinate matters. From there, we will work on the joint growth perspective with the overarching goal of being a total provider for complete projects in greenhouse horticulture and soft fruit.
For more company information:
Taks Handling Systems BV        
www.taks.nl
info@taks.nl
Buitendijk Slaman                              
www.buitendijk-slaman.nl
info@buitendijk-slaman.nl
Note to the press
For more information, please contact Manon Eeckhout, Marketing & Communication at Taks Handling Systems, tel: +31 (0) 88-5552000 or m.eeckhout@taks.nl