Second cucumber supply line for Double Diamond Acres
Innovation by TAKS
In 2016, TAKS Handling Systems extended a previously built cucumber harvest system for Double Diamond Acres in Kingsville, Canada with a second supply line. Double Diamond Acres supplies greenhouse vegetables to the entire North American market. To be able to meet the daily demand, the company needed a harvest processing system that could guarantee reliability and high capacity processing.
Double Diamond Acres has been working with the TAKS harvest processing installation since 2013, and was very pleased with it. The cucumbers are harvested using innovative and ergonomic containers with flexible floors and backplates. After being cut from the plant, the cucumbers are put in the container. The weight presses down the flexible floor, increasing the content of the container.
The containers are then automatically transported to the packing hall and detached by a portal robot. A buffering system provides a steady supply of cucumbers. The containers are emptied front first, so the cucumbers can roll carefully onto the conveyor belt of the sorting machine, without getting damaged. The new second supply line has increased the handling capacity to 24.000 cucumbers per hour and the fill rate of the sorting system to a steady 96 percent.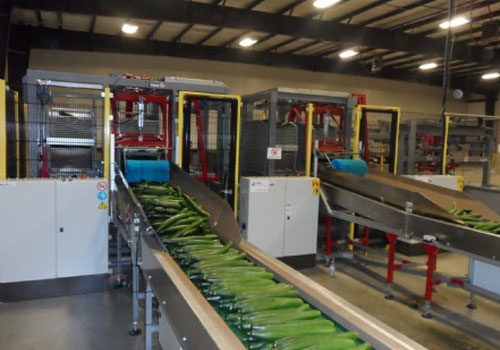 Crates are no longer needed when harvesting cucumbers in the greenhouse or handling them in the packing hall. Furthermore, the system has a very high unloading capacity, which has led to an important reduction of labor costs and effort while making the process more ergonomic. As a result, the container system can save Double Diamond Acres up to 15 to 20% during harvest times, meaning the investment will be recovered within 3 years.
For more information:
TAKS Handling Systems, Mr. Cor Taks, T: +31(0)76 5 222 677, E: c.taks@taks.nl