"Good relationship does not automatically guarantee a good assignment"
Tomato grower Schenkeveld chooses Taks Handling Systems again for the expansion of its packaging line. Schenkeveld is building a 44-hectare greenhouse complex in Rijsenhout, the Netherlands, with a greenhouse in each wind direction. Phase 3 'South' and Phase 4 'West' are now under construction. The total logistics system will be highly efficient, with a capacity of 48 tons per hour. "We chose Taks because of their innovative, efficient solution for high-quality harvest processing. This fits in perfectly with Schenkeveld's vision."
Passion for perfection
This vision is expressed in Schenkeveld's overarching slogan 'Passion for perfection.' "We are working on optimization and growth. What we do, we want to do well. Taks Handling Systems shares this vision. We have enjoyed working together for 30 years. In 2017, the design for the total project of 44 hectares was made. In 2017 and 2018, the packaging lines for phase 1 'North' and phase 2 'East' were delivered to full satisfaction. Taks Handling Systems also carried out the complete layout of the packaging hall at our other four locations. So now we are working on locations 7 and 8. It always appears that they absolutely excel in quality and efficiency and that their modular solution lends itself to requested innovations that arise during the process. This is how we achieve our goals."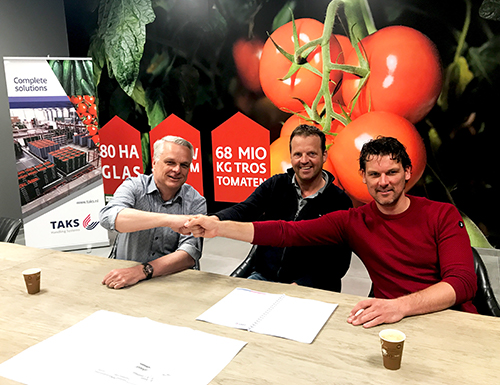 Signing agreement with from left to right Cor Taks, Richard Schenkeveld and Piet van der Wel.

Scope and efficiency
The entire construction of the greenhouse complex covers 4 greenhouses of 11 hectares (total 44 hectares) with a packaging hall for harvest processing in the middle. In this hall, there are 4 identical harvest processing systems from Taks Handling Systems, one for each greenhouse. One weighing line can process 2400 boxes per hour. As a result, the total capacity will soon be 48 tons per hour. During peak production, only 3 employees are needed per weighing line. In addition, we register every movement in the logistics process by means of 'tracking & tracing' of the harvested products. Efficiency is the spearhead of the entire logistics line.
Cor Taks is satisfied: "A good relationship does not automatically guarantee a good assignment. We all worked hard for this. That does not alter the fact that, with a relationship of 30 years, we are proud and happy that Schenkeveld has once again opted for our solution. We look forward to the end result. We are also very curious about the overall view of the complete installation."
Taks Handling Systems
Taks Handling Systems develops, builds, and installs complete harvest processing solutions in packaging halls for greenhouse vegetables and fruit. The high quality and good service ensure that Taks Handling Systems has satisfied customers worldwide in more than 25 countries who work with our efficient, labor-saving solutions.
Publication date: Friday, June 11th, 2021